Create Your Custom Made Badge Design Using Canva
Posted by Make Badges on 14th Jun 2017
Custom made badges offer a tremendous marketing opportunity for your business. Are you making the most of it? Custom made magnets, magnet fastener badges and zipper pulls are also effective at cutting through to new customers. However, pin badges in particular bring the potential of making your message both personal and mobile.
People wearing custom made badges naturally spread key marketing messages to others face to face. This allows for an intimate and effective transfer of key information that can dramatically augment your other advertising and branding efforts.
Today designing custom pin badges is easier than ever before using an innovative free website called Canva. Canva is an extremely user-friendly online, graphic design program that allows you to create any design and ready it for print. It facilitates file preparation and effective design so that you can create the ideal custom made promotional pieces for your needs.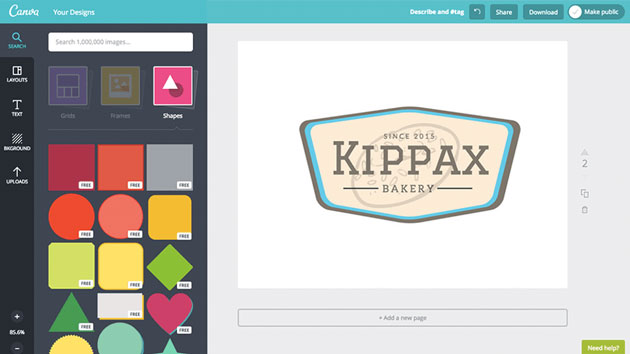 Tips for Maximising Your Canva Experience
While Canva is quite user-friendly, as with any new software, there's a learning curve involved with getting up to speed with it. The following are some tips to help you get the most out of Canva when designing custom made badges:
Select Your Design Elements Carefully
Even the largest pin badge sizes are relatively small. Because of this, be highly selective about what design elements you include on it. Remember that there is power in simplicity, and a punchy message will be more memorable than a cluttered design that viewers can quickly forget. Limit fonts and colours as well and keep them targeted on your design and marketing goals.
The Limitations of Canva
While there is much that Canva can do, there are some things that it cannot. For example, curved text on a path and image bleeds are not possible with the interface. Our free Adobe Photoshop and Illustrator design templates are available to download from our artwork page to assist with a perfect layout. If you require further assistance, please contact the Make Badges team for assistance. We will be happy to assist you using our in-house design resources and expertise to create the exact design you are envisioning.
Print Quality is Key
Resolution and dpi (dots per inch) are extremely important considerations for any printed piece. To maximise your image quality and make it look as professional as possible, use the PDF file-printing format to create a 300 dpi file. Never use JPG or PNG for printed pieces. While these are fine for viewing on the web, they will look pixelated in print. Download your file in this manner, and it will be ready to share with Make Badges so that we can complete your custom pin badge printing job.
Online resources have made custom graphic design easier and more satisfying than ever before. Canva is a prime example. While it does have some limitations, it can get you started in making your custom made badge ideas a reality. It is also effective for creating custom made magnets, zipper pulls, magnet fastener badges, and much more.