Create Your Custom Made Badge Design Using Canva
Posted by Make Badges on 14th Jun 2017
Custom made badges offer a simple yet tremendous marketing opportunity for your business. Are you making the most of it?
Custom made pin badges and magnet fastener badges, in particular, can help make your message both loud and mobile. Their presence can instil your company's logo or message in potential customers' minds. Alternatively, custom zipper pulls and magnets are another great, subtle marketing tool that can cut through to new clients.
Here at Make Badges, we strive to provide our customers with the perfect custom goods to promote their business. That's why we allow you to design your dream badge yourself! We recommend using Canva. But if you're unsure what Canva is and the tricks and traps of working your way around it, we're here to help. This guide will help you learn how to make badges with Canva. You'll be creating all different sorts of badges in no time!
What is Canva?
Canva is an amazing online design tool for creating professional quality visual content. It has a bunch of different templates to help you along your creative process, making creating your custom badge a whole lot easier. It's no wonder so many customers are turning to Canva to create designs for their custom-printed badges.
If you're a tech-wiz or graphic designing pro, you may prefer to create your designs from scratch using Adobe Creative Cloud or similar apps. We have an entire catalogue of product templatesto make setting up and positioning your designs a cinch.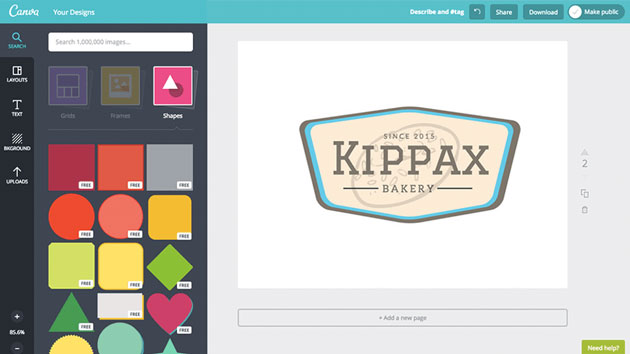 How to Make Badges With Canva – a Step-by-Step
So, you want to get crafty with custom badges on Canva, but you're not sure where to begin — that's where we come in! If you're a visual learner, we have made this follow-along video tutorial. Otherwise, continue reading to master the craft of creating custom badges with Canva.
1. Set the Correct Dimensions
To get cracking on your badge, you first need to ensure you're using the right dimensions. Click on 'Create a Design' and select 'Custom Size' from the menu.
Unsure of what size circular badge you'd like to create? A good rule of thumb is 100 x 100 mm. If you're after rectangular or square badges, however, determine the size you're after first and then input those dimensions into Canva! The measurements are always available in the product name.
2. Get Creating
Now the fun part — designing your badge! You can start from scratch or pick from Canva's huge range of free templates. Remember that there is power in simplicity. A punchy message will be more memorable than a cluttered design that viewers can quickly forget.
3. Download Your Design
Once you're finished designing your badge, it's time to download it! For best results, download it as a 'PDF Print', and select 'crop marks and bleed'. Downloading your design correctly is super important for ensuring your badges print correctly. To learn more about bleeds, read our bleed guide.
4. Upload to Make Badges' Design Studio
The final step is to choose which badge size you want (if you haven't already). On the product, press 'Launch Design Studio' and upload your badge design file. Resize and position it to your liking, then simply add to cart. It's really that easy!
Designing your own custom badges with Canva and Make Badges has never been easier. For more information about Make Badges, visit our FAQs or contact us.
Tips for Maximising Your Canva Experience
While Canva is quite user-friendly, as with any new software, there's a learning curve involved with getting up to speed with it. The following are some tips to help you get the most out of Canva when designing custom made badges:
Select Your Design Elements Carefully
Even the largest pin badge sizes are relatively small. Because of this, be highly selective about what design elements you include on it. Remember that there is power in simplicity, and a punchy message will be more memorable than a cluttered design that viewers can quickly forget. Limit fonts and colours as well and keep them targeted on your design and marketing goals.
The Limitations of Canva
While there is much that Canva can do, there are some things that it cannot. For example, curved text on a path and image bleeds are not possible with the interface. Our free Adobe Photoshop and Illustrator design templates are available to download from our artwork page to assist with a perfect layout. If you require further assistance, please contact the Make Badges team for assistance. We will be happy to assist you using our in-house design resources and expertise to create the exact design you are envisioning.
Print Quality is Key
Resolution and dpi (dots per inch) are extremely important considerations for any printed piece. To maximise your image quality and make it look as professional as possible, use the PDF file-printing format to create a 300 dpi file. Never use JPG or PNG for printed pieces. While these are fine for viewing on the web, they will look pixelated in print. Download your file in this manner, and it will be ready to share with Make Badges so that we can complete your custom pin badge printing job.
Online resources have made custom graphic design easier and more satisfying than ever before. Canva is a prime example. While it does have some limitations, it can get you started in making your custom made badge ideas a reality. It is also effective for creating custom made magnets, zipper pulls, magnet fastener badges, and much more. Once you are finished designing your badge, feel free to order your badges in your favourite size by clicking the following button and we will create and ship them to you within no time.