Information Magnets
Posted by Paul West on 25th Nov 2015
The refrigerator door is the communication nerve centre for most modern families. After all, where is easier for keeping your family's schedule and notes in one central place? Almost every family has a set of refrigerator magnets ranging from pop culture designs to family photos. Your potential customers look at this door multiple times each day. Why not take advantage of that handy fact and create custom information magnets to promote your business?
Unfortunately, most magnets are poor quality. Those flimsy, boring, and frankly, unsightly square magnets are the last thing you want to adorn your fridge door with. Thankfully, there is a solution. Makebadges.com.au creates a wide variety of custom-made magnets in many different sizes. They are perfect for decorating the refrigerator door, but also for displaying and holding papers on any other metal surface such as school locker doors, garage doors, computer cases and even filing cabinets. Our custom-made magnets are built tough, with a high quality badge and strong magnet backing ensuring they'll stick around for years to come.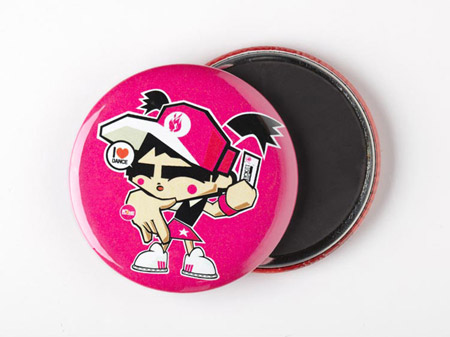 Our online template makes it simple to create a magnet design right on your computer, and the wide variety means you are only limited by your imagination. Business owners across many industries have found success by distributing useful information magnets to current and future customers. For instance:
Takeaway restaurants can print a magnet with valuable neighbourhood phone numbers such as fire and police, adding their own number into the mix.
Local clinics can add hospital, poison information centre, and police numbers, along with the clinic number for medical care.
Cities can create rubbish collection date reminders for all new residents
A measurement conversion chart is ideal for a magnet advertising a grocery store or specialty foods store
Engaged couples can add a festive design for a save-the-date magnet.
With your logo or phone number on their refrigerator magnet, potential clients can't help but remember your business once the need arises. So why not take advantage of the great prices on custom-made magnets and make your message stick.
If you are looking for customised marketing giveaways, makebadges.com.au can help. We can make custom-made badges in multiple sizes, custom-made magnets and even custom-made zipper pulls. Simply supply us with your working design and our professional team will create your custom order in less than a week, in most cases. We can also ship to just about any address in the world, from local shops to customers around the world. Contact Make Badges for pricing questions, inquiries about shipping costs, and for any help you may need in designing your custom information magnets.