How to make Russell from UP's Wilderness badges & sash
Posted by Make Badges on 6th May 2015
UP is a Pixar classic. When you think of Pixar, it's hard not to think of the floating house with thousands of balloons attached to it, drifting through the sky. Some of Pixar's most iconic characters have come from this film, with Russell – the enthusiastic, cheerful boy scout – being one of them.
When moviemakers portray scouts, they're always sporting a sash covered in wilderness explorer badges. Russell is no different – sporting an admirable sash covered with all of his achievements. If you're in need of a costume, Russell from UP is a fun, easy choice. All you have to do is create Russell's wilderness explorer badges and sash, which we can walk you through.
Make Badges is your one-stop shop for all things badge-related. Crafting custom badges is our passion, and we strive to perfect each individual badge for our customers.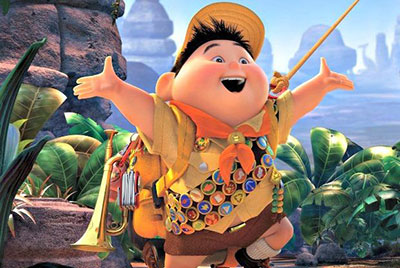 What is a wilderness explorer?
In Disney/Pixar's UP, a global scouting organisation called The Wilderness Explorers is dedicated to inspiring and instructing kids about the importance of preserving the environment and acting responsibly in general.
Kids complete tasks and demonstrate good citizenship to receive merit badges, which they display proudly on their scout sash.
Here's a whimsical look at what some of these singular badges might mean, and how Russell might have earned them.
The Karate Chop Through the Watermelon Obviously Russell has excelled in the rare martial art of Fruit Fu. Invented in melon groves in 16th century Japan, this is the least violent of the martial arts, thus making it perfect for slightly clumsy kids. Those who can chop through a complete melon are awarded the Black Seed Belt.
The Hand With a Closed Thumb The rarely seen Shadow Puppets badge. Russell had to have mastered the flying bird, the goose, the dog, and the difficult elephant with waving trunk in order to earn this badge.
The Fez Awarded only by a shadowy Scout leader that only goes by the name of The Doctor, this badge is awarded for successfully traveling through time and returning alive.
The Cupcake A joint badge earned by a Scout and a parent together, you can only earn this badge by providing treats to your troop four weeks in a row. Not all badges are for brave deeds. Some are just plain enjoyable.
The Hat and Moustache Awarded for disguise building, this badge is given to Scouts who successfully impersonate a person, animal, or inanimate object for one hour. It's rumoured that Russell imitated a fluffy pillow for almost twice that long before troop leaders discovered him and woke him up.
The Birthday Burger This badge, which shows a hamburger with a birthday candle stuck in the centre, is only given to those Scouts who have celebrated their birthday at Scout camp. Mosquitoes, hard bunks, and pranks. What more could a boy want for his birthday?
How to create the sash
To create sash for Russell's wilderness explorer badges, you will need:
Dark brown felt or similar sturdy fabric
Hot glue gun (if choosing not to sew)
Scissors
The process of making the sash is easy.
Measure your felt so it fits around your body (or the person you're creating the sash for). Cut out two long, straight strips and ensure you leave a couple centimetres extra for glueing/sewing.
You can either sew the two pieces of felt together using a sewing machine or by hand. If sewing isn't your cup of tea, simply glue the two pieces together (but watch out for your fingers!).
It's really that simple! You now have half of Russell's most prized possession ready to go.
How to create Russell wilderness explorer badges
Now that your sash is completed, it's time to move onto the fun part: making the wilderness explorer badges. Creating custom badges is a fun, easy process using Make Badge's design studio. Badges of varying sizes are available, ranging from 25mm to 89mm.
1. Have the design ready
Russell has a lot of badges on his sash. Without proper organisation, it's easy to get overwhelmed and lose track of what you've completed or what's left to do. That's why it's best to plan out all the wilderness explorer badges you need before you begin designing and ordering them.
You can create a badge using Canva seamlessly, with plenty of free wilderness explorer badge templates available. If Adobe Suite is more your style, Make Badges has a large range of badge templates on Photoshop or Illustrator.
Need help designing your badges? You can be walked through the process with our badge design video.
2. Choose your product on the Make Badges website and open up our badge design studio to put your design in
The next step is to choose what size badge you would like for your sash. We would recommend the 25mm badge, but if you'd like your wilderness explorer badges to be slightly bigger, opt for the 32mm badge. Badges come in all shapes and sizes, so you can create your sash with the classic circular badge, or make it your own with square and rectangular badges!
Place your design in the Make Badges design studio, where you can make further customisations if you need to.
3. Place your order
The only left to do is place your order and choose regular or express delivery! Orders are sent out within 3-4 days, and received depending on delivery method.
Now you know how to make your Russell wilderness explorer badges costume, the only thing left to do is order your badges.

Start designing today! Get in touch with Make Badges to learn more!