Posted by Make Badges on 23rd Jan 2017
The new school year is fast approaching, and both students and educational institutions are making preparations. The move from kindergarten to "big school" is exciting for most children, but it can also be daunting and even a little bit scary.
For some students, this is a time when they must transfer from the simplicity of a single building and perhaps several dozen other students to a much larger campus and hundreds of classmates. With so many new students, teachers and multiple buildings and classrooms to navigate, the entire experience can be quite stressful for some newcomers.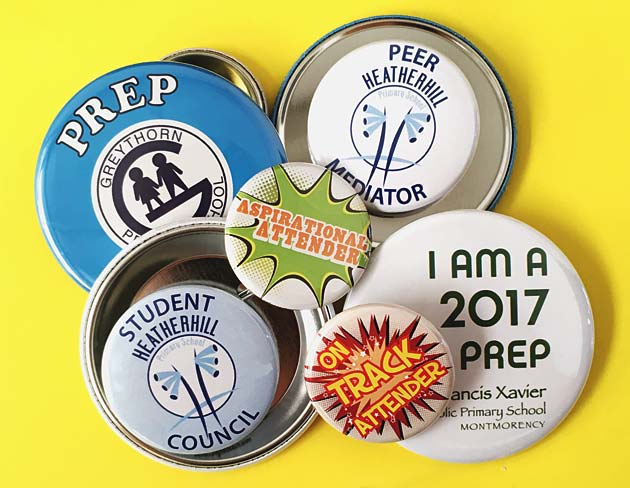 Easing the Transition with Custom School Badges
Primary schools do their best to help acclimatise new students with as little stress and confusion as possible. Before the first day of school, there are often orientation days to allow new students to learn about the facilities and the overall layout of their new school. Tours are provided, and the daily routine is explained to the children so that they will be able to transition into their new circumstances as seamlessly as possible.
That said, there would likely still be a bit of culture shock for even the most flexible and adaptable youngsters. For some, it will all feel fairly overwhelming those first few days or weeks.
Fun, Colourful Custom Made Badges Help Alumni to See Who's New
That's where school badges, custom made badges and school visitor badges can make all the difference. Custom-made badges from Make Badges can clearly identify all the new pupils with a bright, cheerful "I'm New Here"-style of message.
Top quality school badges from Make Badges are available in a 25mm "fun size" for kids and on up to a large 75mm "can't miss me" size that has room for a more detailed message.
Custom made badges can help to facilitate schools in their ability to make life easier for new students, informing others that the youngsters wearing these badges may need a little extra help from time to time as they acclimatise to new routines and surroundings.
Special Custom Made Badges Ideal for School Visitors, Preps and Rewards
School badges and school visitor badges can be used with existing policies and strategies employed by schools to ensure a smooth, successful transition into the new school year. Parents or older children who are allowed to accompany new students and preps on their initial days might wear eye-catching school visitor badges to designate their role on the campus.
Don't forget that custom-made badges are also ideal for highlighting rewards for students, or for marking special events throughout the school year!
All school newcomers and their helpers can benefit from wearing custom school badges created with appealing designs. Custom made badges help ease the transition into the new school year. Count on Make Badges to help your educational institution create eye-catching custom made badges, school visitor badges, and badges for rewards, preps, and more!