Movember Badges
Posted by Make Badges on 26th Oct 2015
From its humble beginnings in a pub conversation, Movember has grown into an international charity event that has raised millions worldwide for men's health organisations. Today, it's a movement with over 5 million participants each year. All because of one simple question over a pint of beer.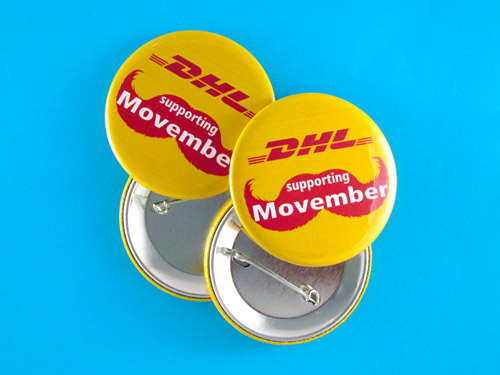 A Moustache Is Born
Two mates met up for a beer in Melbourne, and they started musing about facial hair. The moustache had all but gone out of style. They wondered if they could single-handedly somehow bring it back. It made perfect sense at the time, as most beer-fuelled conversations do, but the challenge spread to 30 people that year, inspiring a collection of facial hair from handlebars to wispy strips. The next year, they decided to add to the fun by registering Movember as a charity, along with creating a website to help find more volunteers. They raised $54,000 that first year, and an annual charity challenge was born.
Movember challenges are created today to benefit multiple men's health issues, with the most common being research toward curing prostate cancer, other cancer research, and mental health research. Participants start November 1 clean-shaven, and grow their moustache through the month. During that time, they strike up conversations and fund raise. Workplace competitions are fun ways to combine fundraising talents, and groups of friends can do wonders with raising funds in their own neighbourhoods.
Get Involved in Movember
Organising your own Movember activities can be as simple as gathering a group of friends to fund raise and talk to raise awareness, or as elaborate as holding contests for thickest, thinnest, and best moustache examples. Have some fun. Give wacky prizes. Fund raise online, or in your workplace. The point is to raise some money to help preserve men's health, and to have some fun doing it.
One great way to get the conversation started is to create Movember badges from Make Badges for all participants to wear during the month. Simple designs of a plain moustache, or badges advising people to "ask me about my moustache" are fantastic for getting the subject of Movember fund raising going into the mix. Wearing the badge to the pub, at work, or even at the park when spending time with the family can result in unexpected donations to add to the cause.
If design isn't your thing, there is a wonderful range of ready to buy Movember badges available now. Identify yourself as a member of 'Team Tash!' or just let people know that you're going the 'Stache for Cash'. Make Badges is a proud supporter of Movember, so will gladly donate 10% of the cost of your order back to you or your team.
The expert in making custom-made badges in Australia is Make Badges. They'll make badges in every size, from tiny 25mm examples to an eye-popping 75mm size, and their online design templates make designing your own badges simple. The prices are exceptional, and their quick service is amazing. For even more visibility in your Movember fund-raising efforts, get custom-made magnets or zipper pulls to give as thank-you gifts to donors.