Make Badges: Proudly Australian Made
Posted by Make Badges on 5th Jun 2018
Make Badges is pleased to announce that we are now officially accredited as an "Australian Made" manufacturer. The Australian Made designation indicates that the most significant work and final transformation of a product took place in Australia. This definitely describes our quality custom made badges, corporate badges, magnet badges, custom magnets and zipper pulls.
Australian Made Campaign Limited (AMCL) administers the Australian Made logo and its designation. The AMCL is a non-profit public company established by the Australian Chamber of Commerce & Industry (ACCI) in 1999 and is also supported by the network of territory and state chambers of commerce and the Federal Government of Australia.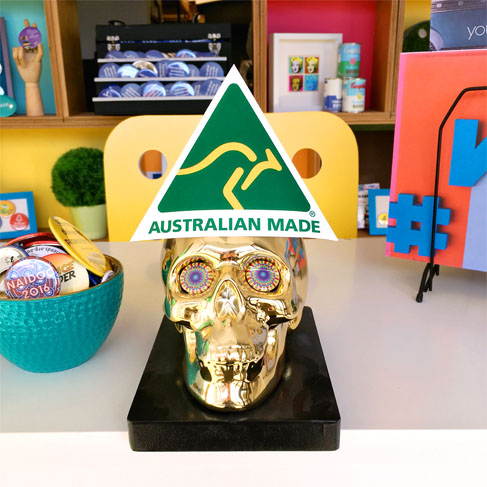 The Benefits of Buying Australian
The Australian Made designation is available to farmers, fishermen, processors and manufacturers throughout the land. There are numerous great advantages to buying Australian, including:
High Quality. Australian companies make some of the highest-quality products in the world. Consumers who seek out Australian made products versus imported items or buying mail order are accessing some of the best products in the world right at home.
Access to the Maker. Australian Made means the products you are buying were recently made and the source is closely available to you should you have questions or concerns. Many Australian Made products come with satisfaction guarantees.
Supports Local Businesses and Jobs. A direct link has been established between local economic development, employment and increased prosperity and consumer purchasing behaviour. When you buy Australian, you support the local economy and jobs for your fellow citizens.
Makes Australia Stronger. Buying Australian also helps to generate more tax revenue for the country, increased welfare benefits and other positive economic impacts. The result is a stronger and more prosperous nation for all.
The Australian Made Logo
You can identify genuine Aussie products by looking for the Australian Made Logo. It is a green triangle that features a stylised golden kangaroo. The logo is now featured on over 15,000 products from 2,500 companies both in Australia and worldwide.
If you wish to support local workers as well as the future of the country, look for the Australian Made logo when you shop. You'll also be purchasing some of the highest quality products in the world.
Custom Made Badges, Corporate Badges and Much More
At Make Badges, we take pride in our manufacturing process and the care we put into our custom made badges, corporate badges, magnet badges, custom magnets and zipper pulls.
We are proud to be an Australian company that's been in business for more than 13 years. We have a passion for what we do and we take pride in turning our customers' visions into top quality badges, magnets and other promotional items.
Buy Australian Made Custom Made Badges and Magnets
Ordering is very easy and can be accomplished online by selecting your badge size, type and quantity selection and uploading your artwork. Most badge orders are fulfilled and delivered within four working days.
Whether you are looking for custom made badges for your fundraiser, sports club, charity, school event, band or social awareness campaign, we can help. We offer over a dozen badge sizes and shapes, meaning there's an ideal badge for your project. We can also create custom corporate badges for trade shows or other special events.