How to create band badges
Posted by Make Badges on 17th Aug 2015
Go to any rock concert today and among the most popular souvenirs, you'll find a large variety of badges featuring the band logo and its members. Buying and collecting rock band badges isn't a new hobby; as early as the 1960's people were collecting Beatles badges as just another part of Beatlemania. While these badges may have been popular collectibles, they weren't seen as very valuable at the time.
The earliest collectible badges found were sold in gum and candy machines as an alternate prize. These coin-operated machines dispensed a small plastic capsule containing a random prize.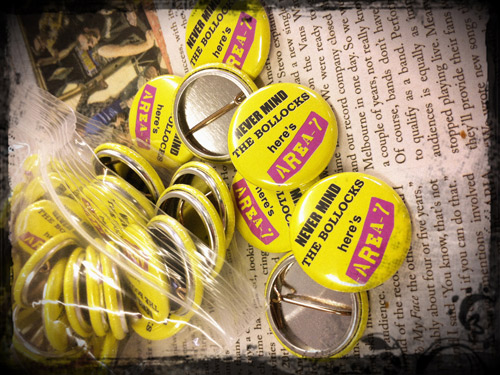 Collecting an entire set of Beatles badges took countless trips to the machine, as there was no guarantee which badge or toy you'd get. Badge trading was popular among clubs so fans could complete their collections. These earliest badges were plain round designs, and most of them had either the band logo, a picture of one of the Beatles, or a silly fan phrase printed on it, all in two or three plain colours.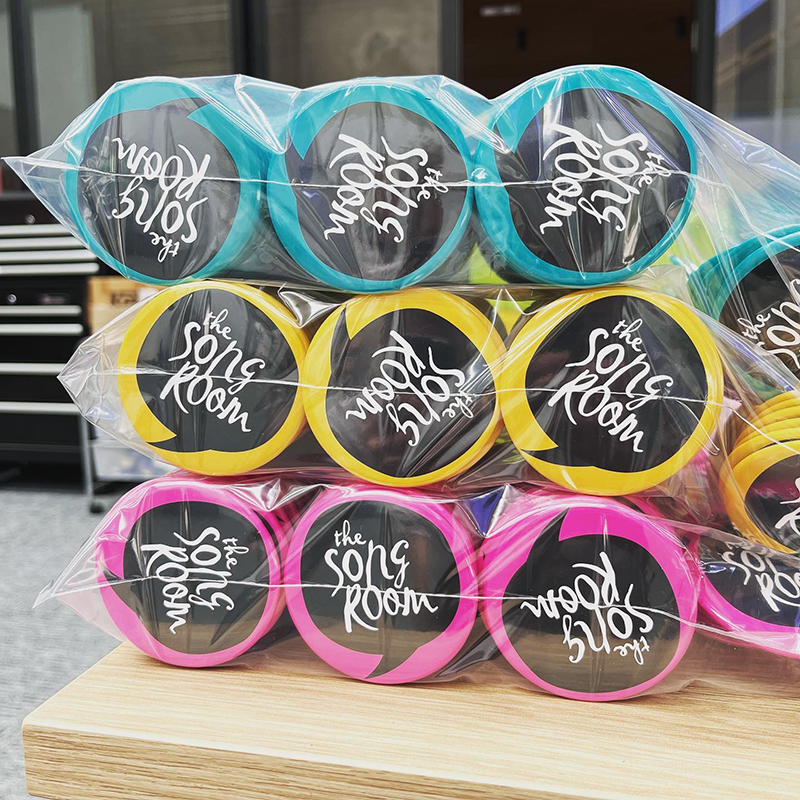 In years to come, badges became the standard small souvenir for bands to give out. Fans could get them free at some concerts or buy them in stores or in stands on the concert grounds. Far from their humble beginnings as simply printed round pinback badges, some of the bands offered elaborate 3D designs of band member faces, band logos, or even musical instruments. The famous Kiss logo is one example that stands out as being different from any other band's design, as is the Rolling Stones' tongue design. Enamel badge faces came into popularity for a time, but the favourite badge of all time is the simple round version. Its face could feature any design, and the shape never distracts from the message.For today's bands, custom-made badges are as important as t-shirts for their marketing campaigns, if not more so. They're relatively inexpensive, so bands can afford to give some away free or sell them for very little money. Badges are a popular accessory for teens to wear on their clothing and backpacks, so they're a cheap way for a band to advertise to more of their audience demographic. Working with Make Badges, band members can design their own badges and have them produced in lots as small as one piece up to thousands at a time. Our printable template allows you to design your badge at home, perfecting the design before even ordering a thing. If you have a garage band or a professional working band, designing and creating unique badges in our online design lab is an easy way to customise and order products.
Why Should You Create Badges for Your Band?
Increased Awareness
Creating badges for your band is an excellent way to increase awareness of your music and attract new fans.
By including the name of your band on a badge design, you can very easily create a silent promoting tool that naturally spreads the word about your group.
Affordable & Easy Way to Create Merchandise
Creating unique merchandise for your band or event can often be time-consuming, expensive, and difficult. Make Badges offers an affordable and easy solution to this problem!
Whether you are a garage band or one of Rock n Roll's Hall of Fame, Make Badges gives you the power to personalise every aspect of your products with ease.
No Minimum Order
Not only can you design a badge that's unique and special to your band at Make Badges, but what really stands out is the fact that there is no minimum order limit.
Whether you need 5 or 100, Make Badges has got you covered! The more you buy the more affordable each badge becomes and delivery is free for orders over $100.00.
We provide continuous customer service and guaranteed quality, so all of your orders will be accurate and delivered in a timely manner. With these extra measures taken care of, making band badges with Make Badges is the perfect choice for any fan looking to show off their appreciation for their favourite performers.
When creating a band badge, there are many things to consider. To begin:
Colour Scheme
This is essential - it should reflect both the aesthetic and the values of your band.
Font & Design
Consider how best to combine different styles, lines and colours for maximum impact.
Bleed
Reading our bleed guide before creating your design will ensure the best results when your badge is printed.
All these considerations are vital for creating an eye-catching and successful band badge that resonates with your audience and communicates your music in a meaningful way.
How to Make Create Band Badges
Design Your Badge
You can use our online design tool to create captivating visuals. With its user-friendly interface, you can create your unique badges from anywhere.
If you're more comfortable using Canva, we also have a tutorial available for that platform.
Save and Upload Your Image
After you have your graphics sorted, upload your image to the Make Badges online design studio. Here you can get a visual of what your badge will look like. In this stage, you can add your desired text, and maybe see if you want to leave space for names as well.
Order and Print
Once you're happy with your final design, you're all good to order your batch. Based on how many badges you require, we can get them delivered straight to your doorstep in no time.

For more information on creating your own custom badges, feel free to check out our FAQ page.