How Custom Made Badges Can Benefit Your Company
Posted by Make Badges on 27th Feb 2017
Your employees aren't just the lifeblood of your company – they are face of your company. Are they representing your organisation and brand in the best possible light? Do they feel respected and valued?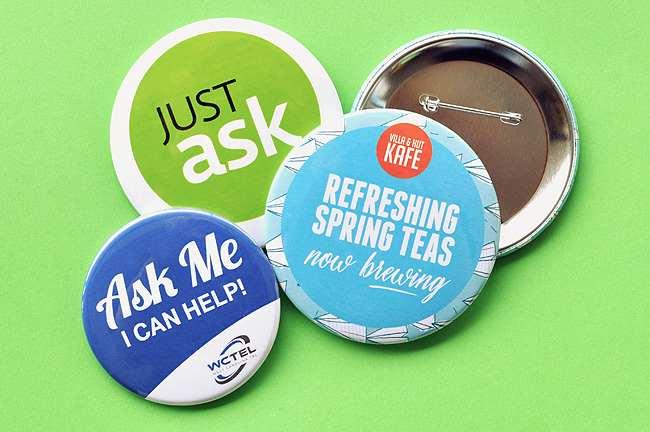 First impressions count, and when your workers interface with the public, they are representing your brand. Ideally, their training, preparation and a genuine passion for what they do will shine through. The right equipment, accessories and finishing touches can also help to convey your company ethos.
Custom Made Badges Can Say So Much
Custom made badges and promotional badges from Make Badges can help your employees make a polished, professional first impression. Custom employee badges can also highlight key aspects of your business pertaining to a certain product or seasonal promotion. Custom zipper pulls and DIY badge sets offer another flexible branding approach.
When it comes to company resources, your Human Resources are the most important. The following are five of the most beneficial and effective ways a HR department can use custom made badges for branding, marketing, promotion and increasing worker loyalty:
1. Putting a Name to the Face
Custom made badges with employee names put a name to the face and allow for a more personal interaction with potential clients. Customers can get to know workers on a first-name basis, humanising the entire experience for both parties.
2. Make an Impact and Increase Brand Awareness
Custom made badges and promotional badges can be fully customised to reflect your company logo, colours, tagline, graphics, clever sayings, and branding elements. They are a blank canvas for your marketing creativity and company vision.
3. Custom Badges for Employee of the Month
Worker surveys have shown that feeling appreciated and valued is high on the list of reasons for job satisfaction and loyalty to an employer. Custom-made badges are an effective way to highlight top workers such as Employee of the Month or entire departments that have performed above and beyond the call of duty.
4. Feature a Special Promotion
A custom made promotional badge is perfect for highlighting a special sale, promotion or event that puts your company and its people front and center. You can also draw attention to new packages, services or products. In addition to their name badge, promotional badges can include a saying that begins with "Ask Me About…" followed by a featured item or service.
5. Delineate Key Roles
Special badges designed for specific departments can make workflow and customer interaction easier and more seamless. For example, key customer point-of-contact personnel who are wearing an appropriate name badge are easier for customers to connect with.
Your employees are the face of your company and brand. When they feel valued and respected, your customers and your business benefit. Custom made badges and promotional badges allow Human Resources departments to put workers and the company image in the best possible light. Custom zipper pulls and DIY badge sets offer additional marketing and HR possibilities.
For all your custom made badge needs contact Make Badges. We offer custom badges in a range of sizes from the entry level 25mm badge, to the mid-range 45mm, and the range-topping, attention-grabbing 89mm badge. Simply upload your artwork using our supplied badge templates; select your badge size and quantity, and we'll take care of the rest. We offer fast shipping to all major centres such as Perth, Sydney, Adelaide, Brisbane, and of course Melbourne.