Custom Made Badges - Brisbane Botanic Gardens Experience
Posted by Dan Laidler on 15th Nov 2017
Located in Toowong, on Mt. Coot-tha Road, the Brisbane Botanic Gardens are widely acknowledged as Queensland's premier subtropical botanical gardens. These stunning gardens are known for their glorious displays of distinct and different garden arrangements. The sprawling grounds are artfully configured in varying geographical and thematic displays to the delight of visitors from near and far.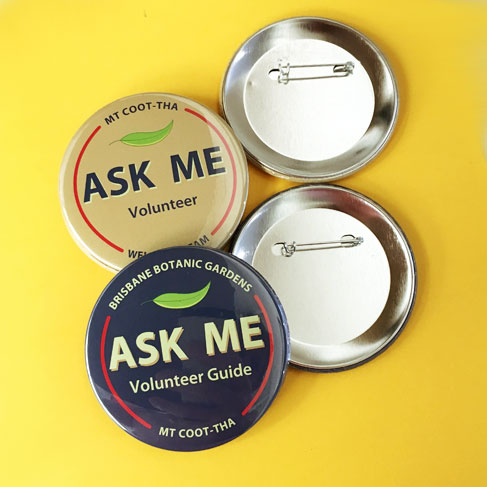 Themed areas of the Brisbane Botanic Gardens include a bamboo grove, scented garden, arid zone, tropical greenhouse and Japanese Gardens. The Brisbane Botanic Gardens also feature the world's largest collection of Australian native rainforest trees. The gardens are staffed with botanical and horticultural experts, and many of them are community volunteers.

Volunteer Guides Offer Tours, Nature Walks and Insights About All Things Botany

The gardens are also known for hosting amazing events throughout the year, including educational workshops for both children and adults. There are fascinating botanical exhibitions and displays as well as free guided mini-tours and nature walks. Overall, the Brisbane Botanic Gardens are an incredible destination for native Aussies as well as visitors to our country.
Make Badges is pleased to have produced custom-made badges for the Brisbane Botanic Gardens. One of the projects involved creating custom made badges to help visitors identify Brisbane Botanic Gardens volunteers. These custom-made badges clearly identify volunteers with an inviting design so that visitors can find and connect with them.

Volunteer Guides at the Brisbane Botanic Gardens oversee the nature walks to assist visitors in learning more about the foliage and greenery they see at the gardens. Volunteers have diverse backgrounds in topics such as horticulture, botany and history. At this time, there are around 80 volunteer guides at the Gardens. They can answer questions and generally help visitors make the most of their time there.

Visitor Information Centre Volunteers Create Welcoming Environment

Make Badges has also created custom made badges for the Brisbane Botanic Gardens Information Centre Volunteers. Visitor Information Centre Volunteers greet guests at the Brisbane Botanic Gardens Information Kiosk and make them feel welcome.

These volunteers are known for their love and passion for the natural world. They offer expert assistance pertaining to the Mt Coot-tha precinct as well as the Brisbane Botanic Gardens. They are active in the community and attend meetings every quarter with Brisbane City Council staff.

The Brisbane Botanic Gardens are an iconic destination in Brisbane for Aussies from all parts of the country. The Gardens are accessible via car, bicycle, public transport and by foot. There are picnic areas, the Mt Coot-tha Library, the Queensland Herbarium, Gardens Café and even a Planetarium. The venue is available for hire for special events as well.

Custom Made Badges For Every Occasion

At Make Badges, we can assist in making custom made badges for your company or organisation. From simple to complex, we can help create the ideal message while printing it on high quality pin badges or magnet fastener badges.

Custom-made badges can use any text or image you wish to communicate your message. Badges come in a variety of sizes depending upon the content and level of visibility you require. We also offer a range of other custom made products such as magnets and zipper pulls to help you spread the word.