Australian 2016 Election Badges
Posted by Make Badges on 28th Jun 2016
The Australian Federal election is coming up on July 2nd. Do you know who's getting your vote? Elections can be polarising and energising, depending upon the contest and your point of view. Are you searching for effective ways to pledge and show your support for the candidates you most believe in?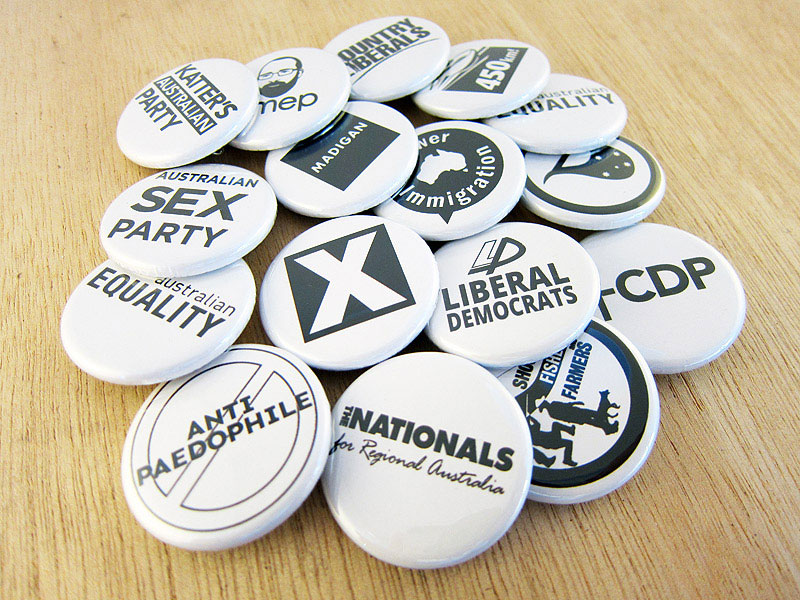 Australian Election Badges
Whether at the Federal level or closer to home, custom made badges from Make Badges are the ideal way to promote and show support for favourite candidates in any election. Custom made badges as well as custom made magnets and fridge magnets can help you broadcast your views loud and proud.
Liberal or Labor? Turnbull or Shorten?
All Australians want security and opportunities for the country going forward. Malcolm Turnbull insists that his party is about growth and says the Labor party is more about spending and taxes. Bill Shorten of the Labor party points out that sustainable economic growth and fairness must go hand in hand.
Any additional taxes by Labor would help to support social fairness and quality of life for all Australians, says Shorten. He also criticises Malcolm Turnbull's plan to give exorbitant contributions to big corporations. Which candidate do you think will best facilitate Australia remaining a robust, high-wage first-world economy with effective social welfare?
Badges Offer Classic, Effective, Time-Tested Self-Expression During Elections
Whether you want to express your views for the Australian Federal election or a contest at your school or organisation, custom made badges can help get the word out and broadcast your point of view. Custom made magnets such as fridge magnets are another way to spread the word to your family, friends and visitors.
Some of the features and benefits of Make Badges election badges include:
Full customisation. Badges can be customised with:
The party logo
Candidate head shot
The party slogan
Additional bold graphics
Grassroots campaigning. Custom made election badges send a direct marketing message while face to face with others and can sway more supporters to your side.

Easy identification. Custom made badges offer immediate identification of party representatives at events and on Election Day.

An ideal gift or giveaway. Election badges can be given as gifts to voters. They function as an inspiring memento of loyalty and belonging for new supporters as well as party members.

Fast, flexible, affordable. Custom made badges from Make Badges feature fast turnaround times and low minimums. You'll get back on the campaign trail quickly and promote your viewpoint more effectively.

The Australian Federal election is just weeks away, but there's still time to express your point of view. Custom made badges and custom made magnets like fridge magnets are a time-tested way to generate election excitement and grassroots support. Custom made magnets, custom zipper pulls, magnet fastener badges, and DIY badge sets are also available.