An Insider's Guide to Pin Trading in Disney Parks
Posted by Make Badges on 16th Mar 2015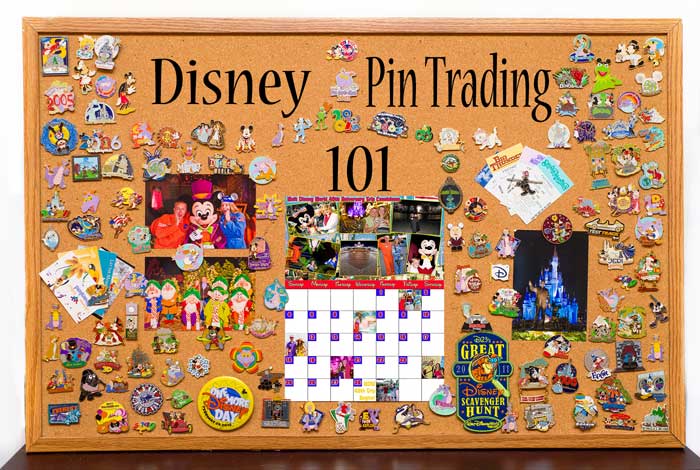 If there's something that Disney does well, it's creating collectibles. They'd been handing out specialty badges at the resorts for years, but in 1999 they officially sanctioned pin collecting as part of their Millennium celebration. Like most Disney collectibles, these badges came in sets but were sold individually. Some were only sold in one particular park or in one resort, so you'd have to visit the entire complex in order to complete your set.
Walk around any Disney theme park and you'll spot employees -- otherwise known as cast members -- wearing lanyards around their necks covered with Disney pins. You might think Disney is allowing their workers to show off their personal collections, but that's nowhere near the truth. It's all a part of that curious hobby known as Disney Pin Trading.
The Origins of Disney Pin Trading
Specialty Disney pins have been around much longer than the parks have existed, but it really came into vogue during the Millennial celebrations. Beginning in 1999, Disney opened pin kiosks throughout the parks and encouraged guests to purchase them for trading. In order to spur on the trading excitement, they provided select cast members with a lanyard covered in pins for trading.
The badge sets are themed according to what Disney event is popular. For the Millennium, they created a photomosaic puzzle of Spaceship Earth, the giant ball that greets visitors in Epcot, and broke it up into puzzle pieces. One piece was sold each day, giving collectors a fierce reason to trade among themselves. Soon after that, Disney created the Hidden Mickey pins, touching on the unofficial game that's played throughout the parks. Each pin had an outline of Mickey Mouse's head hidden somewhere in the design. Most pins are common, and they're a great way to introduce children into the fun of Disney pin trading.
How to begin Disney pin trading as a hobby
The best way to begin Disney pin collecting is by purchasing a lanyard in one of the parks. Each lanyard comes with a collection of badges, usually six or eight. Wear the lanyard and walk up to any cast member who's wearing a similar lanyard. Look at the pins they're wearing. If you see one you like, offer to trade. Cast members will trade any pin on their lanyard with any other Disney badge from yours. The only exception to this rule is cast members who wear a green lanyard. These are reserved for trading with children. Some cast members make a fun game out of putting one pin in the back of the lanyard, showing only the backing in front. You can trade any of your pins for this mystery pin, and sometimes you'll find a rare one this way.
Disney traders only deal in genuine Disney pins. They will have the Disney logo on them, and will be relatively heavy for their size. Other giveaway badges can be attractive additions to your collection, but you can't use them for trading.
Trading With Cast Members
It's become a Disney tradition. To this day, if you walk up to any cast member who is wearing a pin lanyard, they have to trade any pin you choose in return for any pin you give them. The only exception to this rule is the cast members wearing the green lanyards. These are reserved for trading with children only, and they take their duties very seriously. Don't try to convince them to trade with you "just this once." It won't work, but you may get a laugh at the creative ways a cast member turns you down, because they're not actually supposed to tell you "no."
Best Practices
The best way to experience Disney pin trading is by getting ready ahead of time. If you're planning a visit to Walt Disney World, Disneyland, or any other Disney property, start your pin trading planning now.
Purchase inexpensive "trader" pins in bulk online. You can find bags of them on eBay and on independent pin sites
Look through pin sites online to get an idea of the available specialty pins around
Find some special pins you plan to look for. This makes pin trading even more fun, with a treasure hunt aspect added in
Wear your pins proudly in the parks, either on a lanyard, a hat, or a special pin-trading shirt
Collecting Rare Disney Badges
The rarest badges are those made in smaller, exclusive editions. Some holiday pins and those celebrating Disney events such as the Food & Wine festival are created in a limited edition. The back of the pin will show a phrase such as "35 of 150," which shows how large the printing run is. The smaller the amount, the rarer the pin. Among the rarest are those created for cast members and annual pass holders, both of which can't be purchased directly by the general public. The only way to collect these pins is by trading, or buying them on one of the online selling sites such as eBay.
Serious Collections
Some people simply trade for pins they like the looks of, while others have collections in mind they insist they have to complete. No matter which type of collector you are, keep an eye out around the pin kiosks for other collectors who may trade. You may find a special pin you might not otherwise add to your collection, although you might have to give up a more valuable pin in return than one of your cheap "traders."
So if you're looking to create your own custom-made badges or magnet fastener badges why not view the extensive range available at makebadges.com.au? Whether you are simply looking for custom-made badges to mark a special occasion or intent on starting your own custom collection, you'll find all sorts of badges at Make Badges ready for your individual designs. We're happy to help, so feel free to contact us today.