A History of Pin Badges
Posted by Paul West on 17th Nov 2014
Pin badges were a staple part of most of our childhoods. We collected them in their many guises, covering topics as diverse as movies to food branding. But did you ever give much thought to their origins?
The first patent for a pin badge came from the great era of innovation, the end of the nineteenth century. In 1896, an American man, John Wesley Hyatt, patented a method of covering billiard balls with collodion, a product of his experiments with cellulose nitrate. This plastic-like coating was the world's first synthetic plastic and his brother, Isaiah, dubbed the material 'celluloid' in 1872.
Thin sheets of celluloid were laid over paper to give them the impression of enamel, without the costs or skill set required to produce enamel badges. Prior to the advent of pin badges, or button badges as they are known in some countries, medallions and pendants were the badges of the day. With the new celluloid system, it meant using less metal and eliminated the need for screwing or soldering. The celluloid sheet was laid over the paper design and pressed onto a metal shell. A metal ring was attached to the rear to hold it all in place and a pin was clipped to the back for securing to clothing.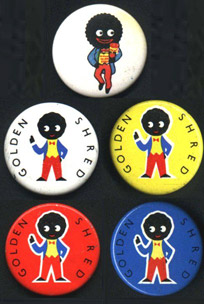 Custom badges
Patents for these badges were taken out in 1894 and again in 1896 by Benjamin Whitehead. His company, Whitehead & Hoag Ltd of Newark, New Jersey, listed the patent for a 'Badge Pin or button', which used a metal pin attached to the rear of the badge. The celluloid protected the design and the pin badge was born. In 1897, Queen Victoria celebrated her Diamond Jubilee all over the world. Mass produced souvenirs like commemorative pin badges were mass produced and distributed accordingly. They were a massive success and have been popular ever since.
Whitehead & Hoag turned out millions of badges in the first half of the twentieth century, not only for the American market but for export as well. Badges were used to promote patriotism for the Boer War (1899-1902) and found popularity during Ghandi's campaign for Indian independence in 1907. These 'Mutiny Buttons' were often seen on the streets of London.
Although plastic versions are readily available, metal ones, like the ones we lovingly produce at Makebadges.com.au, are still the ones to have. They haven't changed much since their inception except we use plastic acetate instead of celluloid sheets.
The modern popularity of pin badges stems from the 60's and 70's. Students, hippies and musicians were never seen without multitudes of badges, espousing the benefits of 'Free Love' and 'Rock & Roll'. John Lennon was a known badge maker, and along with other outspoken musicians like the Sex Pistols, made badges cool to wear. From 'Ban the Bomb' to 'Free Love' and 'I'm with stupid!' badges have charted social trends and causes throughout modern history and will be with us for many years to come.
If you feel like making your own pin badge history why not order now by clicking the following button and we'll help see your design come to life!