Why Marketing Professionals Love Custom Made Badges
Posted by Make Badges on 24th Mar 2017
The marketing department is the lifeblood of a company. Without consistent, effective marketing efforts, even the best product or service will not be seen, recognised and enjoyed.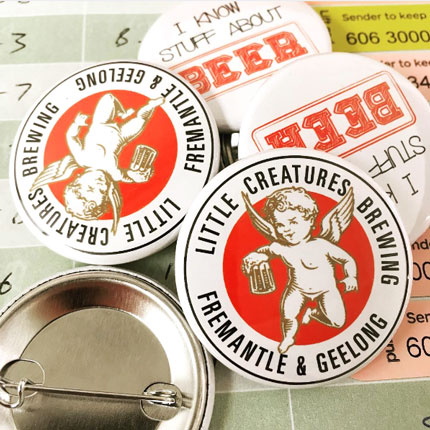 The top marketing professionals are always looking for more effective marketing tools to accomplish their objectives. Return on investment (ROI) is also an important consideration. An option that is all too often overlooked is custom-made badges and promotional badges.
Targeted, Effective and Affordable
A targeted, intelligently planned campaign along with custom made badges can be extremely effective. Augmented by strategic flyers, direct mail, sponsorship and other key approaches the results can be exponential.
In addition to a high quality product or service, brand awareness and brand recognition are crucial to enduring business success. Custom made badges and promotional badges can be integral to these objectives. These marketing tools make the jobs of marketing professionals much easier.
A Minimal Investment Can Bring Maximum Rewards
Custom made badges and promotional badges are also marketing tools with a high ROI. Instead of expensive, heavy-handed marketing approaches, promotional badges and custom-made badges allow for a steady, consistent approach that fosters success in both the short and long term.
Some of the top advantages of marketing tools such as promotional badges, custom made badges and promotional badges for marketing professionals include:
Affordable. Among all marketing approaches, marketing tools like promotional badges and custom made badges are among the most affordable.
A blank canvas rich with possibilities. Custom made badges allow for literally unlimited possibilities in terms of message, creativity and imagery. Since they are affordable, multiple messages can be put into use while still staying within budget.
Increased brand awareness and exposure. Whether your promotional badges or custom made badges are designed to be worn by employees, customers or both, the net effect will be increased exposure for your company and heightened awareness of your brand.
Complementary to other marketing tools. Another reason marketing professionals love custom made badges and promotional badges is that they dovetail very well with both similar and very different marketing tools. For example, they can mirror a message on a custom-made fridge magnet just as well as they can a billboard, radio or television message.
Easy, immediate distribution. Custom made badges and promotional badges can be distributed and displayed immediately, launching their positive effect for your business quickly and effectively.
Creating effective custom made badges and promotional badges require just a few important steps. These include:
Focus your campaign. Start by selecting and clearly defining a target audience who will wear and/or see the badge.
Craft your message. What would you like to say to your target audience? Grab their attention by using witty, memorable language and/or attractive, mesmerising imagery to put your brand in a positive light.
Cover the basics. Make sure your badge includes relevant brand elements like your logo and contact information. Triple-check for accuracy.
Custom made badges and promotional badges are a hit with marketing professionals due to their effectiveness and strong ROI. Is your business making the most of these potent marketing tools? For all your custom-made promotional button badge requirements, contact Make Badges. We have a range of sizes available from 25mm to 75mm, with easy ordering and fast delivery.