Sydney Swans AFL Pride Round Promotes Respect, Tolerance For All Lifestyles
Posted by Make Badges on 4th Oct 2017
If you need custom made badges for your event in Sydney, Make Badges is ready to help. We can also assist you with magnet fastener badges and custom made magnets to promote your event, business or product. Count on us for custom made badges that Sydney truly notices.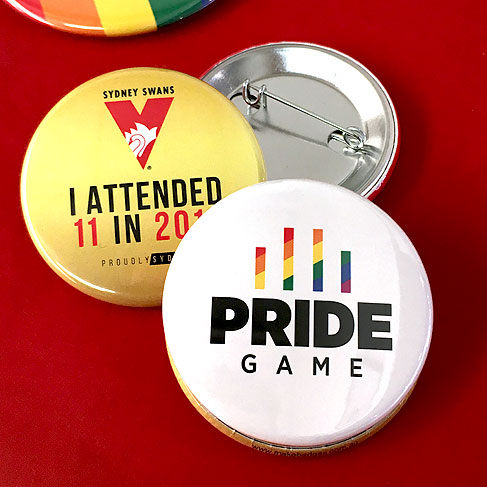 We recently produced custom made badges for the Sydney Swans AFL team for their annual Pride Match against St. Kilda. The annual match promotes acceptance and pride for players and fans from the LGBTIQ community. A festive crowd of 35,773 fans came out to celebrate this event at the SCG in Sydney on Saturday night, July 22.
Promoting Pride and Tolerance
It was an amazing celebration on the playing field, in the stands and both before and after the game. Fans dressed up to show their pride and embrace the atmosphere. Make Badges is proud to have contributed to the festivities through creating Sydney custom made badges for the Sydney Swans AFL team.
The Sydney Swans AFL Pride Round event has proven pivotal in increasing positive community awareness and support for persons with alternative lifestyles. A case study out of Latrobe University showed the 2016 Pride Game was extremely positive for the LGBTIQ and AFL communities. The 2017 game has already created the same positive ripple effect throughout Sydney again this year.
Events like the Sydney Swans AFL Pride Round foster more awareness about the importance of tolerance and not discriminating against those who are different from us. The Latrobe University study showed that attitudes toward the LGBTIQ community have become more inclusive and tolerant as a result of this community activity.
A survey of over 3,700 fans in attendance found:
Prior to holding this event, 3 of 5 LGBTIQ attendees experienced discriminatory treatment at an AFL game,
They viewed these games as unwelcoming and non-inclusive to the LGBTIQ community.
However, following the event, attendees reported:
Over 90 percent of LGBTIQ fans felt safe, included and welcomed at the Sydney Swans AFL Pride Game.
Over 67 percent of straight fans said they'd intervene in situations of homophobia during or after the Pride Game.
Feeling safe, welcome and supported is a cornerstone of well being for people of all walks of life. Make Badges is proud to have contributed custom made badges to help raise the profile of this fantastic event.
The team at Make Badges specialises in custom-made badges for a range of uses and events. Whether you're looking to promote your business, a specific product, a school event, sporting group, fundraiser, band or organisation, we have the ideal promotional product to ensure it gets the attention it deserves.
Raising Awareness with Custom Made Badges
In addition to custom made badges, we can also create magnet fastener badges, zipper pulls and custom made magnets Sydney organisations and events can use for maximum exposure. These items function as an ideal marketing tool or giveaway to ensure you stay in the minds of current clients as well as potential new customers.
Just like last year, the Sydney Swans AFL Pride Round was a big success in Sydney. Make sure your next Sydney promotional campaign is a roaring success with custom made badges, <custom made magnets, <custom zipper pulls and magnet fastener badges from Make Badges.